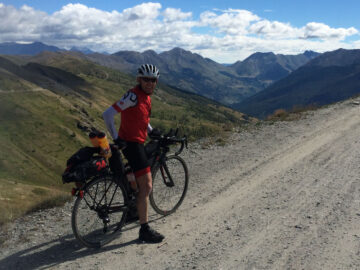 Atelier Ride Far is run by Chris White. I'm originally British, but I left there in the mid-1990s to live in the USA, Australia and Canada before moving to the Lausanne region of Switzerland in 2005 for a job as a university researcher.
Bike Mechanics
My interest in bike mechanics started when bike touring in the 1990s in Europe and North America. While studying for my PhD in psychology in Canada in the early 2000s, I repaired bikes for friends and was buying up to 50 old bikes per year to fix and re-sell to fellow university students.
Since 2011, I have worked as a mechanic in large bike shops in Lausanne and Morges. In 2021, I opened the Atelier Ride Far.
I approach bike mechanics from a scientific and engineering perspective, always trying to understand how things work and why different parts are designed differently. I value functionality, durability and repairability of bike components over weight and aesthetics.
Ride Far
I regularly compete in ultra-distance, self-supported bikepacking races. I've done races of between 1000 and 4000 km, some within a single country and have also done the Transcontinental Race three times, which goes across Europe, for instance from the UK to Turkey. In these races, the clock never stops, participants ride 250 to 400 km per day for up to 2 weeks, and they are on their own, they must not receive any help from other people.
In 2015, I launched the Ride Far website to share what I'd learned about ultra-distance cycling to help others prepare for their own ultra-distance races and adventures. I've gradually expanded the site to cover all aspects of cycling long distances and the site has been very successful.
When I decided to open my own bike workshop, it was natural for me to again use the name Ride Far. The "Atelier" part is simply French for workshop.