My big news for 2022 is that I'm opening my own bike workshop, Atelier Ride Far in Echandens, between Lausanne and Morges.
After working at bigger bike shops in the area for almost 10 years, I'll now be my own boss and I can give every bike my personal attention. I need everyone's help to spread the word, so please share the news with your friends in the region.
Location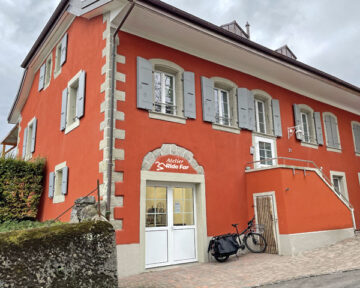 Echandens is on the western edge of Lausanne (8 km), towards Morges (5 km). The shop is in the centre of the village, just behind the best bakery in the area, which is an extra incentive to visit! There are regular train and bus services and lots of parking, see the Contact & Location page.
I've spent the past two months turning a quite old and quirky space into a welcoming and well-equipped bike workshop, with much help from family and friends, so come check it out! The shop will open next Tuesday, January 4th, see the opening hours.
Services Offered
I repair all types of bikes: road, gravel, MTB, city, cargo, tandem, etc. I'll strive to keep delays to a minimum to ensure you're not without your bike for long. Minimal overheads means that charges for labour are lower than at the bigger shops and I always try to find the best value parts for your bike.
I'm an expert at knowing what options are possible for customising your current bike to better suit your needs – better climbing gears, how to fit more practical accessories, etc.
Bikes & Sales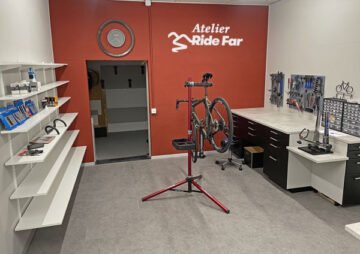 I build customised bikes for people who want to choose a frame and set of components individually to have a bike that suits their needs and desires better than what can be offered by the bike brands that make bikes that appeal to the widest audience.
I sell good-quality used bikes of friends and clients for a moderate commission, so if you have a bike, pair of wheels, etc. that you want to get serviced and sold without you needing to do any work then please get in touch. The current shortages means there's a good market for certain components, so get in touch if you want to clear out your unused parts.
I stock a small range of standard spare parts and accessories (inner tubes, tyres, bar tape, chains, bottle cages, etc.). I try to obtain most other items within a couple of days.
RideFar.info website
RideFar.info, my other website, that contains advice and information on self-supported bikepacking, long-distance cycling and ultra-distance cycling, is still continuing. Hopefully I'll have time in the coming months to complete some updates that I've been working on.
I wish you all the best for the upcoming year and will hopefully see you soon.



Newsletter Sign-up
To receive occasional email newsletters like the one above (no more than 2 or 3 per year), please complete this form: